Let's Get There Together
Get in contact or meet us in person. Whether it's at an information session or during a one-on-one appointment, we want to get to know you better.
Find upcoming events for MBA, MBA With Co-op, Accelerated MBA, BLPT MBA below!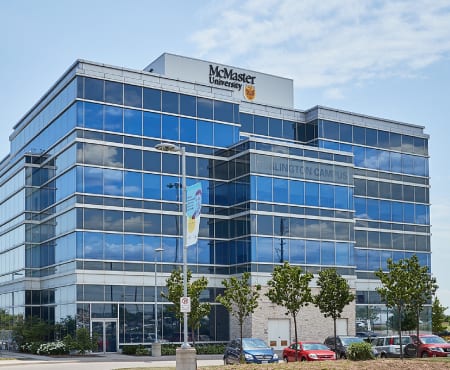 Where to Find Us
The Ron Joyce Centre is home to our MBA program.
Ron Joyce Centre
4350 South Service Road
Burlington, ON
L7L 5R8
We are located at the Ron Joyce Centre in Burlington, ON (room 333). Take the elevator to the third floor, make a left turn around the corner and we are at the end of the hallway.
Our office hours are:
Monday-Thursday: 8:00 a.m. to 4:30 p.m.
Friday: 8:30 a.m. to 4:30 p.m.

Email Us
Send us your questions online. We're here to help.

Phone
1-905-525-9140 ext. 27024. One of our staff will be in the physical office from 8:30am-4:30pm EDT. For ease, contact us through remote means by clicking the button below.

Know Your Options
Share your resume or LinkedIn profile with us and learn which MBA program might be the best for you.